How to create Native Campaigns
First of all you need to setup your Native ad Units (see here how)
Once you have added your Native ad Units, you can create your Native campaign
1. Click Campaigns Tab and select Add Campaign from the dropdown menu. Name your campaign and select the offer that it belongs to or hit New Offer Button if any offer has been created for this campaign yet. Choose the Campaign Type: Native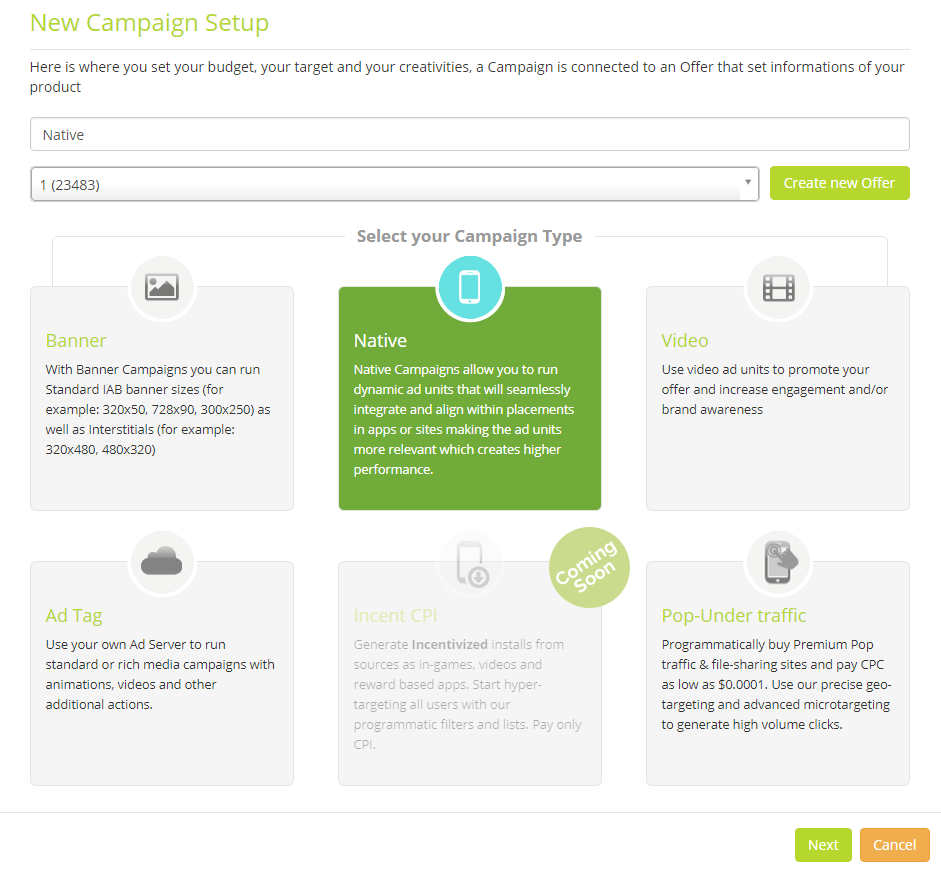 Choose the Type of Auction (Open Auction or Private Marketplaces) and if your Offer is Web Responsive, you also need to select the Type of Device (Dekstop or Mobile).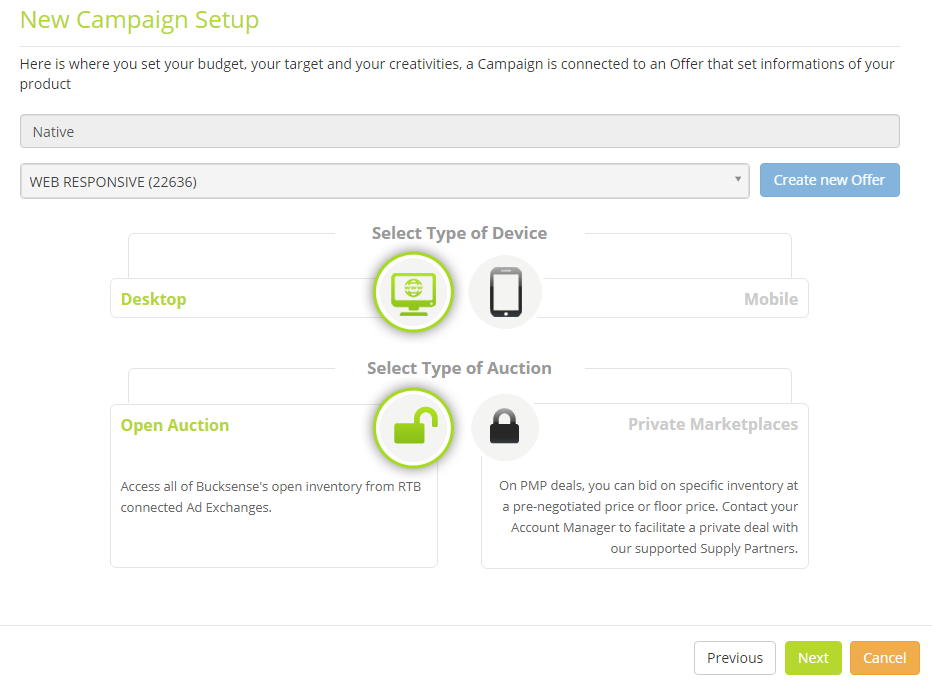 2. Enter the Top Level Domain (primary level of your site URL ) and the Start Date.
Then choose the campaign's URL type from one of the following three options:
Landing Page URL: this is the default URL that you previously set up at the offer level
Additional URLs: this is the list of additional URLs (landing pages, web pages, etc), which you previously added at the offer level
A/B testing URL: a subset of URLs, taken from the additional URLs list, that will be rotated in the campaign
Then select the type of traffic source (for mobile campaigns): App and/or site and device type.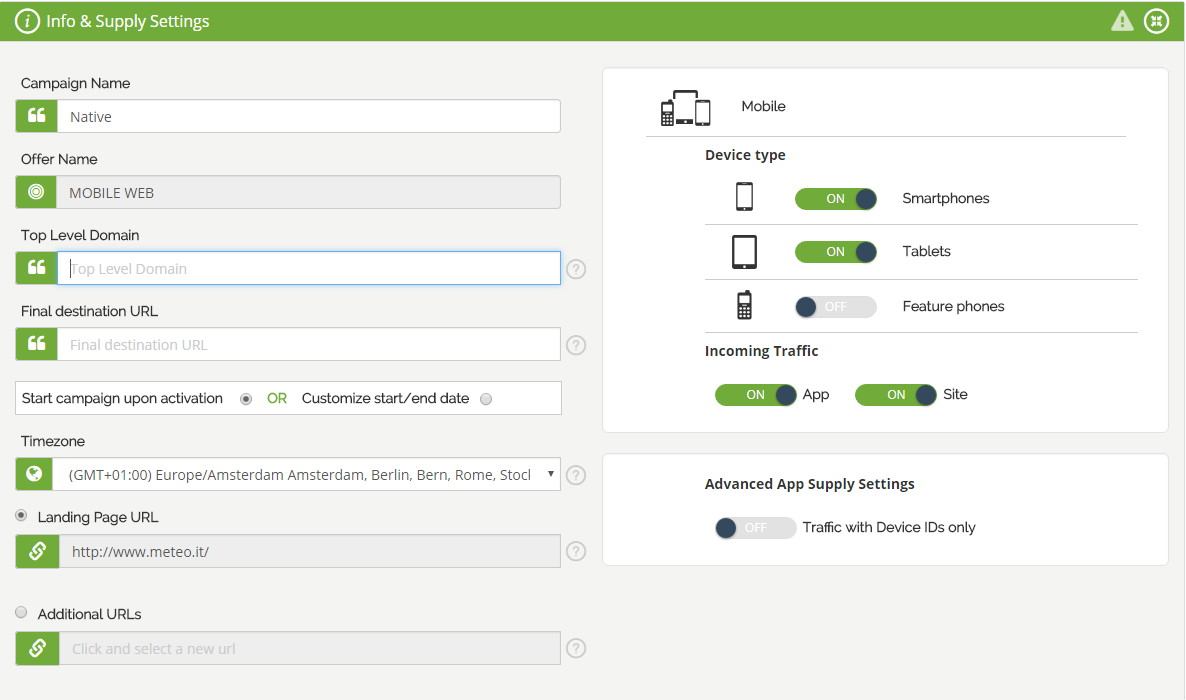 3. Click Country and select the country/countries where you want to run your campaign

4. Click Connection Type & OS and select Let me Choose if you want to pick up specific Operating Systems and/or Carriers (for Mobile Campaigns). In case you do not wish to receive WiFi traffic, disable this option and select the specific carrier/s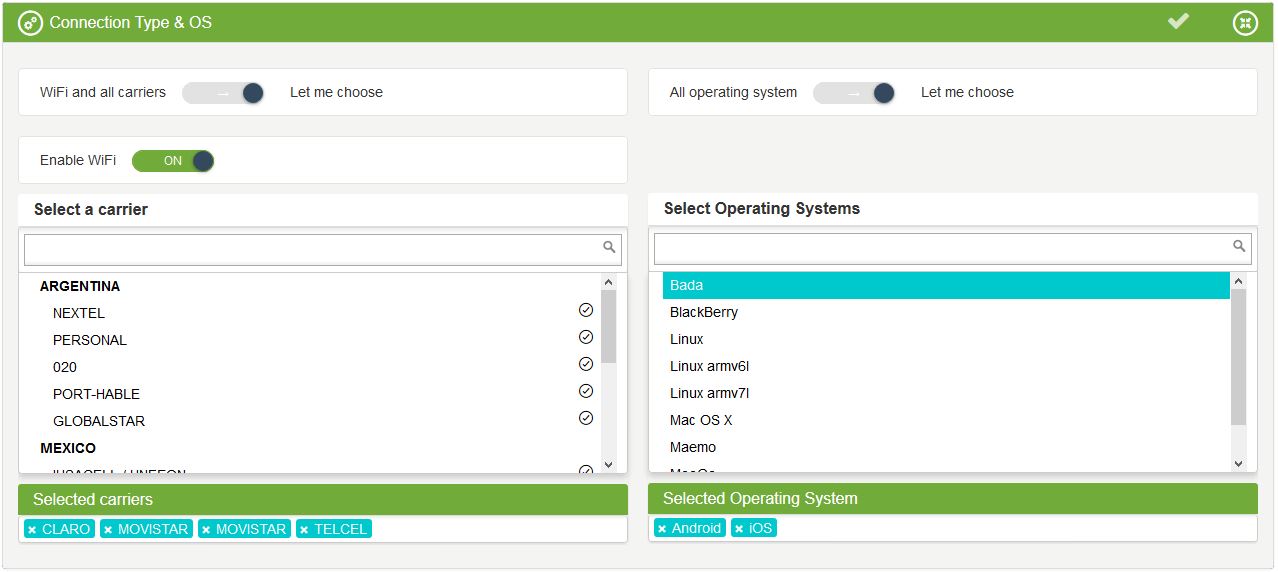 5. Click Ad Units and choose the Native Type you want use in your campaign between: Content Wall, App Wall, News Feed, Chat List, Carousel and Content Stream.
By default, all the Native Ads layouts are selected.
If you want create a new Ad Unit click on Create New button (see here how)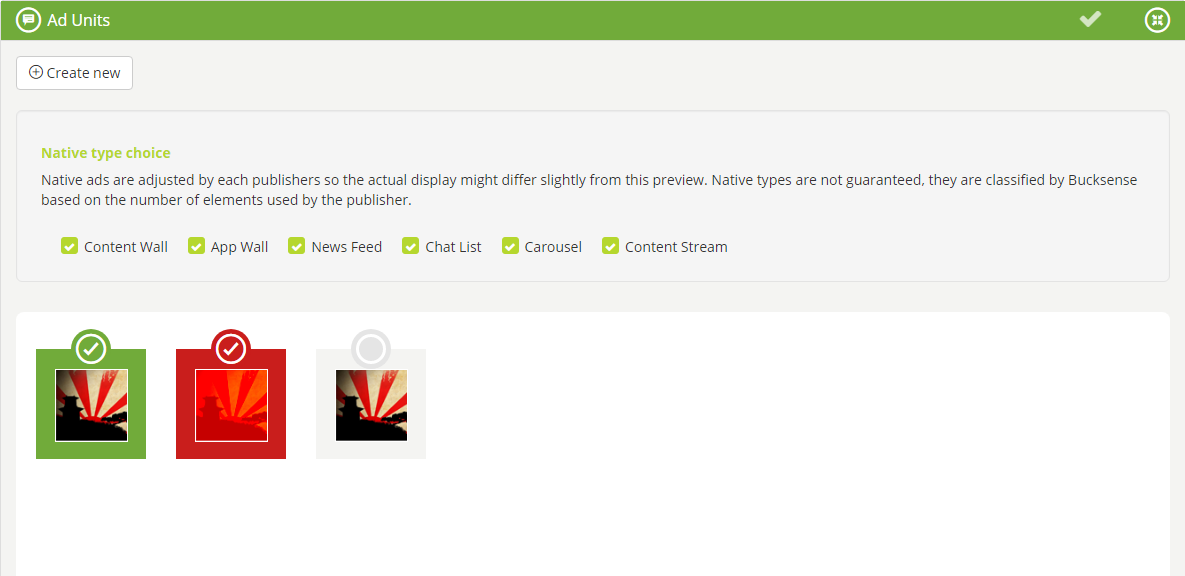 6. Click Budget & Spend Type and choose between Manual (Flat CPM) or Optimized (Dynamic CPM). Bucksense suggests that advertisers choose the Optimized option to let Bucksense Smart Algorithm automatically adjust campaign CPM to reach the CPA goal.
OPTIMIZED: select your Optimization Basis (CPC or CPL/CPI/CPA), enter your Optimization Goal, your Budget Type (capped or unlimited, the Total Campaign Budget, the Daily Cap and the Pace (spend as fast as possible or spend evenly throughout the day).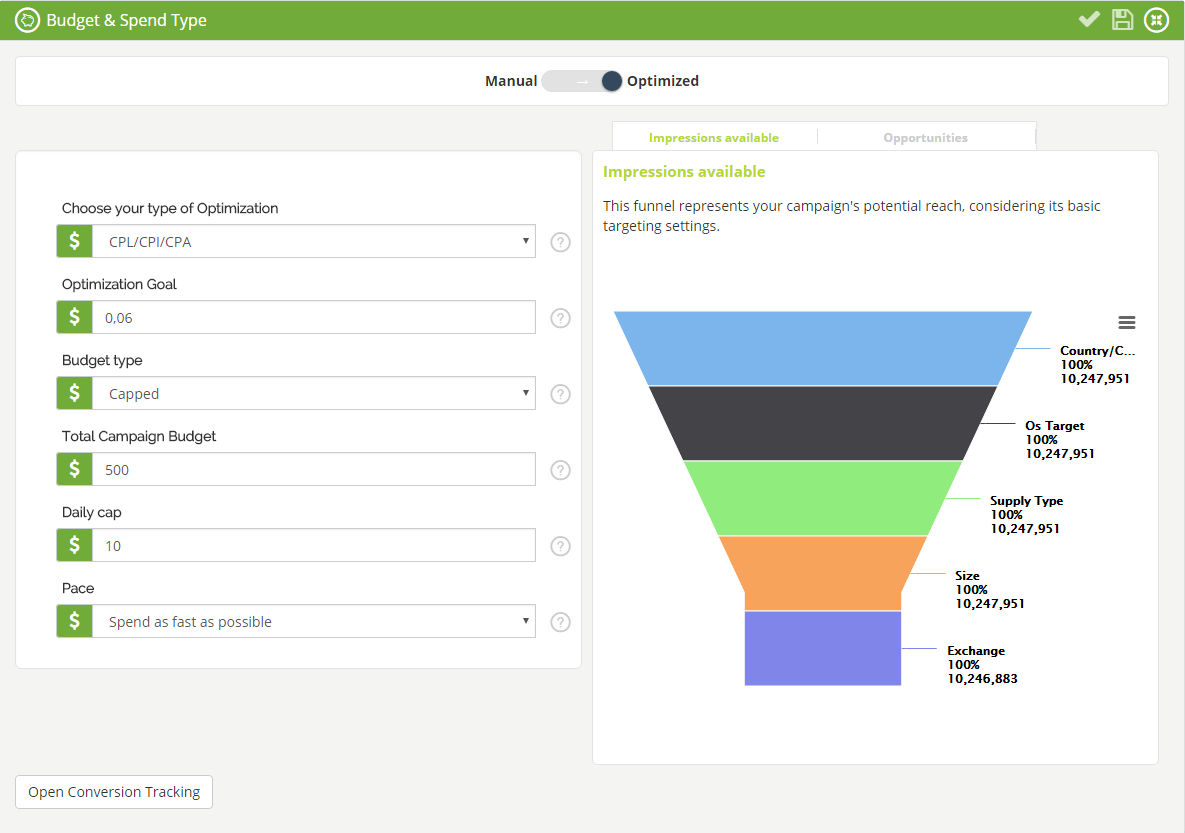 If you have chosen MANUAL, you will have to optimize your campaign manually and you would not be using our smart algorithm for optimization.
You need to set up: a CPM App/Site target, your Budget Type (Capped or Unlimited), the Total Campaign Budget and a Daily Cap.
Bucksense helps you to find an estimated CPM starting value by suggesting CPM values.
These suggested CPM values are available for both In-App and Site (depending on your campaign's Supply Settings ). These should be considered as "startup" values to access the auctions and are based on matching your campaign settings to the inventory data.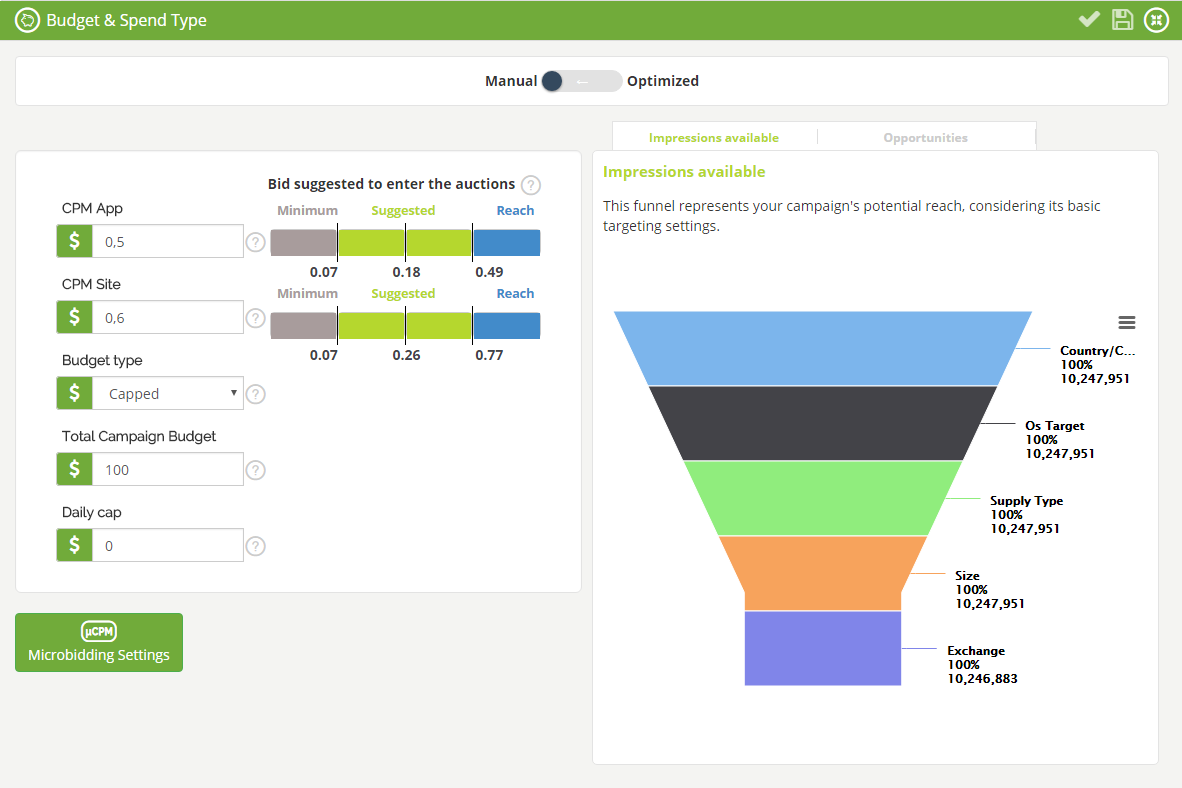 On the right side of the Budget & Spend Type section (for both Manual and Optimized), you will find two very useful charts: Impressions available and Bid Opportunities.
The Impressions available tab provides a funnel chart showing how the available inventory decreases with the targeting settings you entered.
Bid Opportunities tab is an useful chart to check once your campaign is live.
It gives you suggestions about how to increase your CPM in order to increase the number of auctions where your campaign can participate (bids opportunities).
Read more about these charts here
7. You are done! Now Click Activate to submit your campaign.