Optimization tips
As main optimization advice, Bucksense recommends select Spend Type Optimized for your campaigns.  If you choose this option you will need to let your campaign run at least 72 hours. Our advanced algorithm learns from data collected and uses it to optimize your campaigns based best performance combination of variables.
That being said, let us give you a few recommendations:
Creatives and Landing Pages
Compare the CTR% and CVR% of each banners version, banner sizes and LPs of your campaigns. Exclude the less performing ones and analyze the creative elements that could explain that difference: color, image styles and copies. Identify the creative elements that drive better results to improve your message effectiveness and the CTR% / CVR%. For example, call to action buttons in red tend to work better than in other colors, manga style is usually better perceived by the Japanese audience and colorful images are more likely to generate better results in India.

*Banner version 22 shows a much higher CTR% than banner version 32. Analyzing the creative elements that explain this difference will give you meaningful insights to enhance your campaign performance.
Report analysis
Bucksense has a complete multidimensional report. Look at the campaign numbers by dimension: OS, Browser, Device, etc. This analysis will help you to remove all the targeting variables that generate worse results or create specific campaigns with the best performing settings.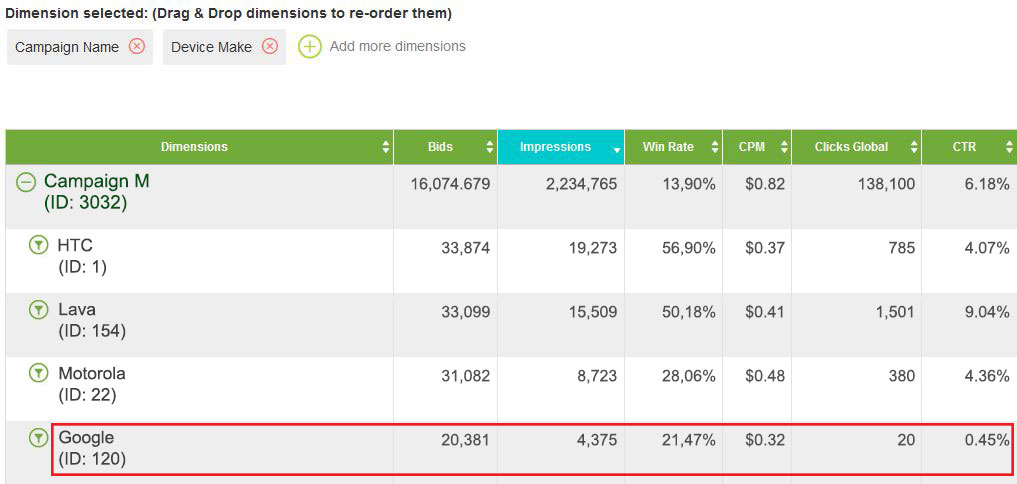 * For this campaign, Google devices show much lower CTR than other devices such as HTC or Motorola. Based on this data, you can go deeper into what may affect performance on this device or/and make exclusions to improve your campaign results.
 Custom Targeting lists: Whitelists/Blacklists
Based on your campaign reports create custom lists to target the placements or users that are more likely to convert. From Report or List Section you can include in whitelists the best performing placements via placement ID, site domain or App (App Bundle) and/or the users' devices (IP, Device ID) that generate better results. In the same way, you will also able to blacklist placements or devices that do not work well.
A/B Testing
Bucksense provides you with advanced tools to test different campaign settings and find out the best combination of variables. Offer URL A/B Testing tool lets you to create dynamic URLS to test at the same time multiple landing pages of your campaigns. Clone Campaign feature also helps you to run easily A/B tests to compare and analyse different spending and targeting options.
Optimization Strategies and Bidding Rules
Optimization process is complex and involves multiple factors such as Advertiser's campaign objectives and budget limitations. In Optimization Strategies section in Campaign Advanced Settings you will be able to set bidding rules and choose the optimization strategy that best matches your needs: maximize campaign reach or speed up the achievement of CPx goals.