Bucksense Report provides a detailed view of your campaign performance for every placement dimension, from site domain to placement name or App (App Bundle). In Campaign Reports you can compare and analyze campaign numbers per placement and also add them directly to custom white and blacklists.
Custom Lists allow you to blacklist placements that are not working well or/and whitelist the best performing Sites/pages or Apps. To help you to save time from exporting and editing  your campaign list data Bucksense simplifies this process. On Campaign Report Page you can directly select placements to create inclusion and exclusion lists and add them to your campaigns targeting settings.
Follow these steps to create and export custom lists in Campaign Report:
1. Click on Reports Tab and select from the drop down menu Real Time Reports.

2. Search for the campaign that you want to create a custom list and select the time range to visualize data.
3. Add the type of placement dimension (Place name, App Bundle or/and Site Domains) for which you want to create a list and Run Report.

4. Click on List Icon

to choose from the report the dimension items, for example the Placement names with the best performance results.

5. Click on Manage List Button and check  the option that you want to apply: create a new list, add these placements to an existing list or include these placements as a new white or black list for a campaign.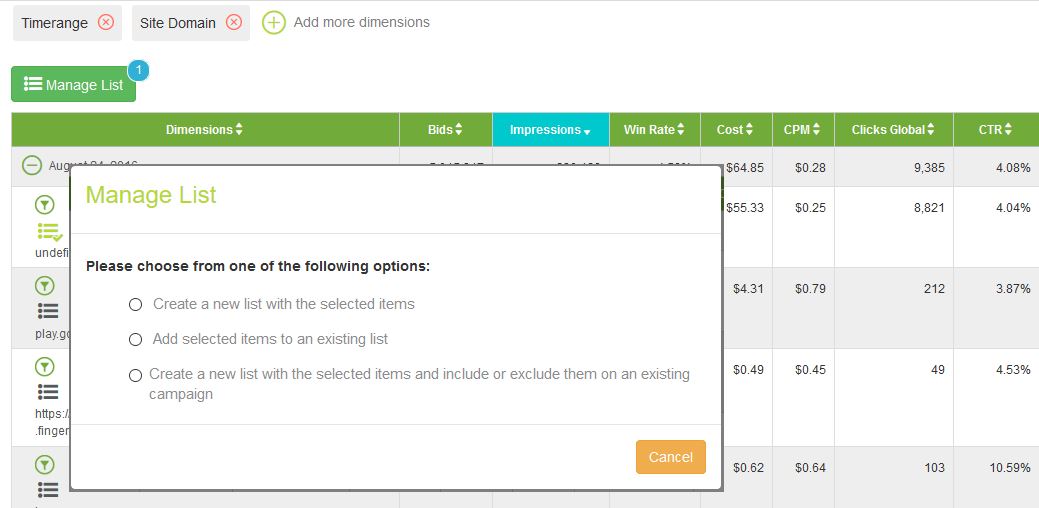 If you choose Create a new list or Add these items to an existing list you will be able to export and edit them further them on List Management from Campaigns Tab. 

The items selected can also be added directly as a White or Black list to a campaign that's already been set up. In this case, check Create new list for an existing campaign on Manage List, select the campaign and indicate if you want to include or exclude these placements for your campaign.
Once you have saved it, the new custom list will be below Selected Lists in the Campaign Custom Targeting Settings.