Admin section allows Bucksense clients create new Advertisers and add users related to them or members with access to all advertisers set in your account. Our platform also enables you to set different access levels for each user and monitor and control their activity log. For example, agencies that work with multiple advertisers can add as a member the head of finance of their companies with access only to the accounting data of their clients.
Create and edit an Advertiser
Once your Bucksense account is set up, our system automatically creates an Advertiser associated to your account. In Admin section you can edit the Advertiser automatically created for you and add new ones.  Agencies can easily add new Advertisers for their clients with different levels of access and margins. In case of brands, if they do not want to unify all their campaigns in one unique advertiser they can set multiple advertisers for each business unit or company subsidiaries.
Follow these steps to add an Advertiser:
1. Click Admin Tab and select from the dropdown menu Advertiser Management.

2. Hit Add Advertiser button

3. Name your Advertiser and choose Yes to add the contact details and create a new user for this advertiser. If you choose No, the user associated to this Advertiser will be the account user.
Please note, Auto TopUp option is enabled by default. You will be able to edit this information later on.

4. Enter Advertiser Company name and address information.

5. Add the user details for this Advertiser. User name and password defined here will be credentials that enable Advertisers to access to Bucksense. Under Responsibility, select the permissions you want to assign to your Advertiser's user and the type of right: all (see and edit) or only read. Please remind that these permissions can be edited further in Manage Users section.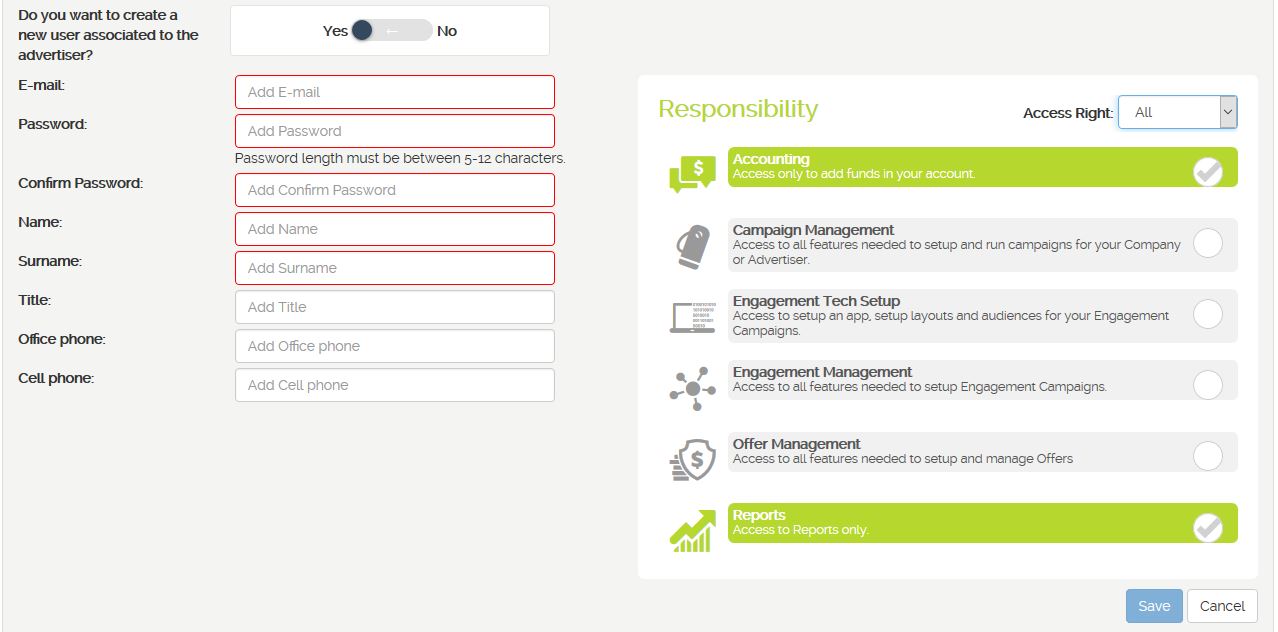 Once contact and user details have been saved, two more options will appear in Detail Section: Bag Amount and Margin.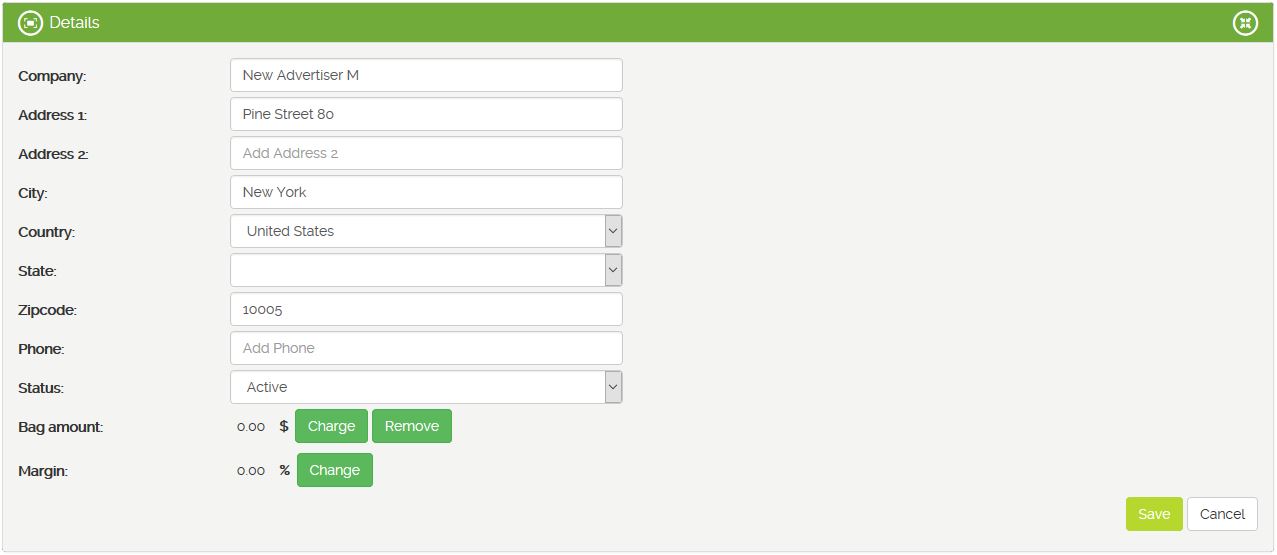 6. Hit Charge Button to top up your Advertiser's bag. It is advisable to do this before setting the budget for the advertiser's campaigns. You can also add a note that will be recorded on Advertiser's History Log and Billing History below Billing Tab.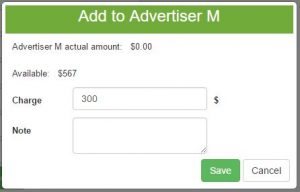 * Margin option is specifically aimed at agencies to apply specific margins to their clients.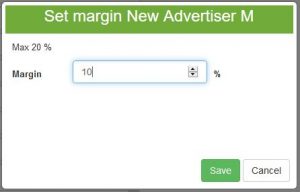 Advertiser Management
Once your advertisers have been set up you will be able to create events and users associated to them and track their activity. For example, you can track when they created or updated a campaign.
Events
Events for all the offers associated to an advertiser can be created in this section. This helps to ease offer setup when the same event can be used for multiple advertiser's offers. To learn more on event setup and tracking click here.

History Log
In History Log section you will be able to access to history information of your account and details on when funds were added, payment method used and who users topped up their accounts.

Variables displayed on the grid  can be edited on Metrics 

to hide or show only those that are relevant for you. In the same way, Filters

will help you to search for specific data to be displayed on the grid: user, date, payment type, etc.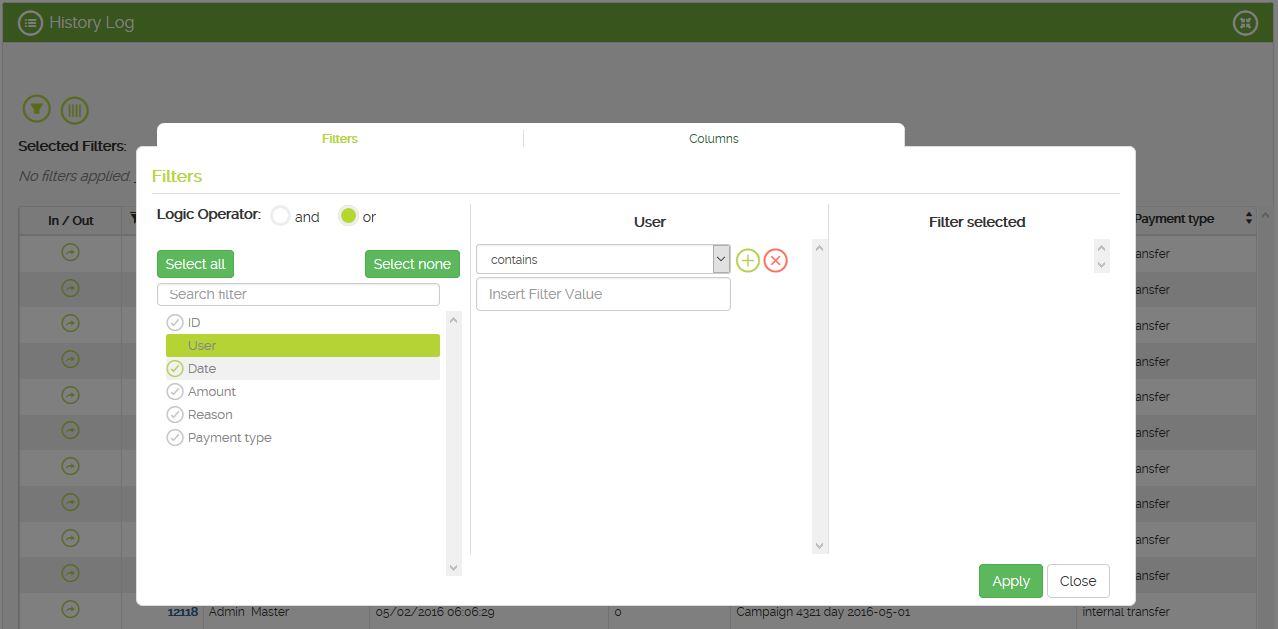 Manage Advertiser's Users
In this section, you can add new users associated to the advertiser or edit the existing ones. Apart from contact and user details, you can edit user's role permissions to control what your partners, clients or members of your organization can see and do within Bucksense platform.