Pop Unders are an effective form of advertising for web, mobile web, mobile app and web responsive offers to promote brands and to provide customers with useful information about products.
Pop Unders consist of a full screen browser window that appears behind the web pages that a user is visiting. When a user closes his current browser, he will see the Pop Under advertisement.
Advertisers don't need to use any ad creative in this type of campaigns – beyond the new Pop Under page itself – , since the users don't have to click any banner to see it.
Follow these steps to create and run Pop Under campaigns on Bucksense:
1. Click Campaign Tab and select Add Campaign from the dropdown menu. Name your campaign and select the offer that it belongs to, or hit the "New Offer Button" if no offer has been created for this campaign yet.
Under Campaign Type, choose "Pop and Redirects Traffic"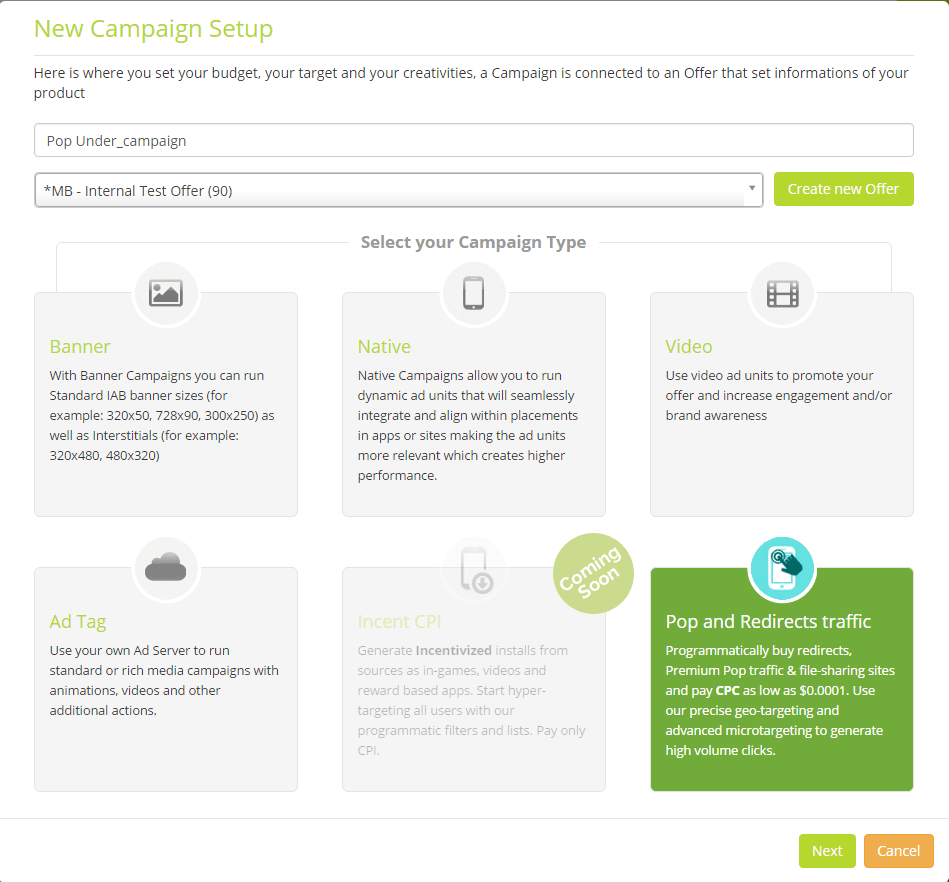 2. Enter the Top Level Domain (primary level of your site URL ), the Final destination Url (optional) and the start date (choose if start campaign upon activation or customize start/end date).
Choose the campaign's URL that will be the page of the Browser window that will appear behind the web pages the users are visiting (the Pop Under page), from one of the following three options:
Landing Page URL: this is the default URL that you previously set up at the offer level
Additional URLs: this is the list of additional URLs (landing pages, web pages, etc) that you previously added at the offer level
3. Click Budget & Spend Type and choose between Manual (Flat CPM) or Optimized (Dynamic CPM). Bucksense suggests that advertisers choose the Optimized option to let Bucksense Smart Algorithm automatically adjust campaign CPM to reach their CPA goal. Select your Optimization KPI (CPC or CPL/CPI/CPA) and enter your Goal and Budget.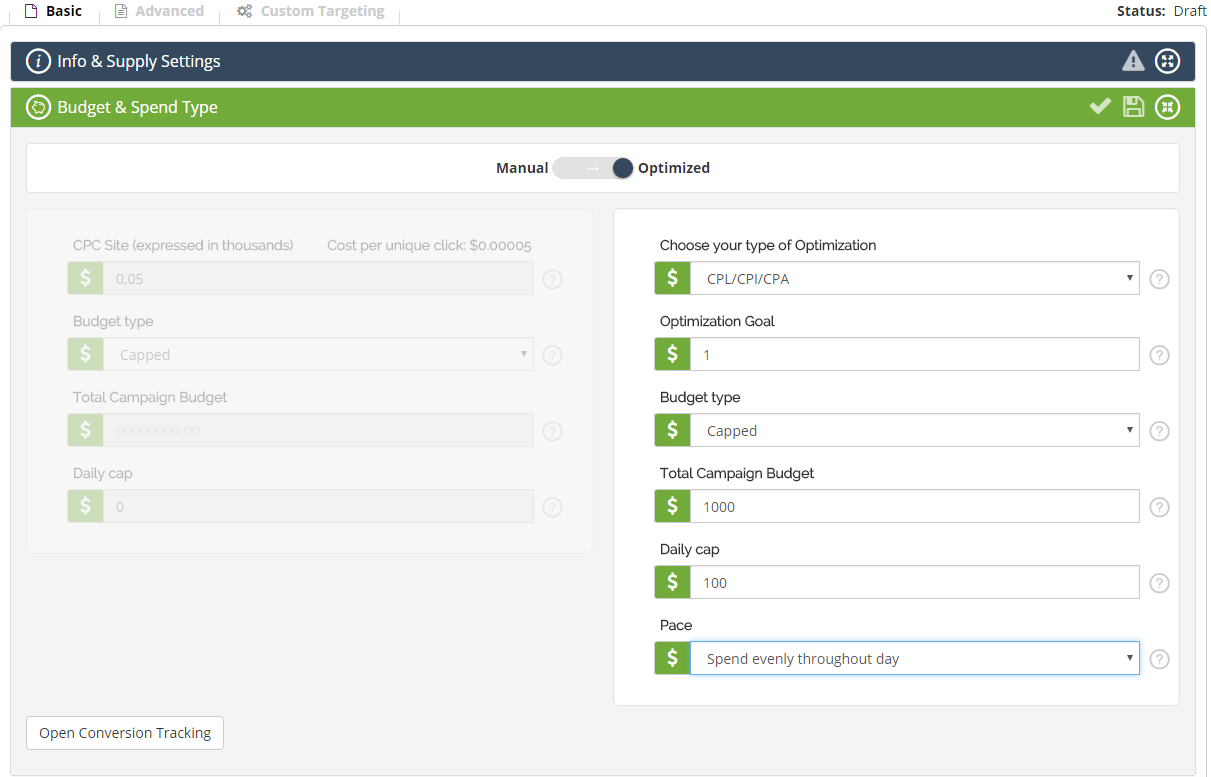 If you choose "Manual," you can optimize your campaign yourself and our smart algorithm for optimization will not be used. For that, you will need to set up a CPC for site traffic, your Budget type (Capped or Unlimited), the Total Campaign Budget, and a Daily Cap.
You can also apply Microbidding rules by clicking on the Microbidding Settings button.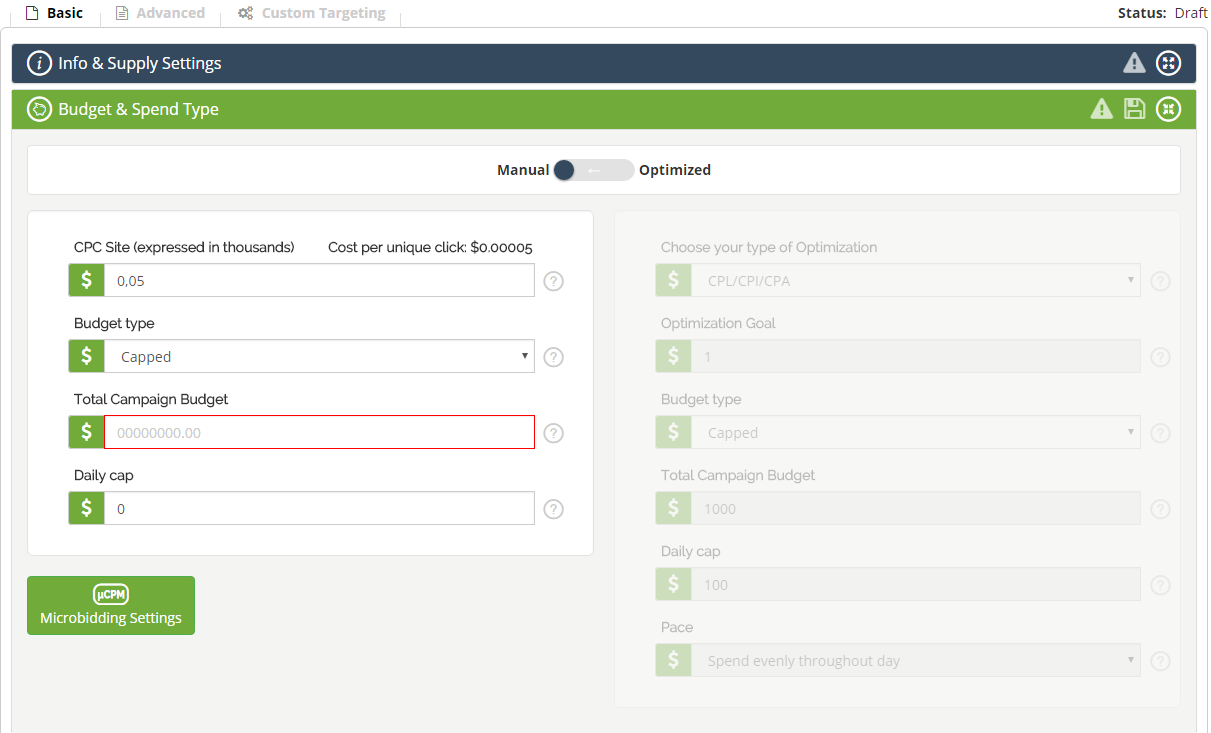 4. Click Country and select the country/countries where you want to run your campaign.

5. Click Connection Type & OS and select between All operating system or Let me Choose (if you want to pick up specific Operating Systems).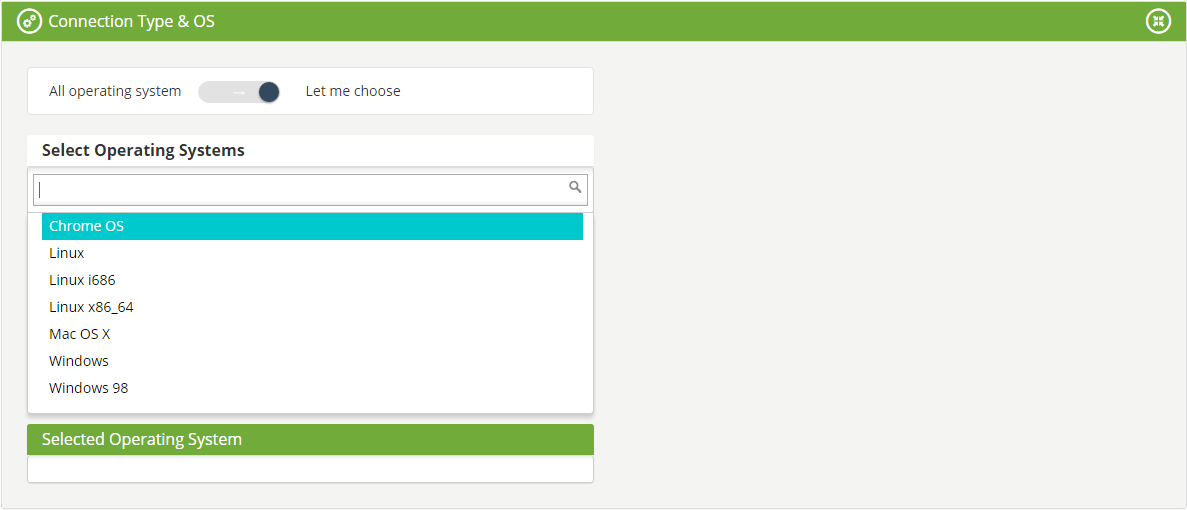 6. You are done! Now Click Activate to submit your campaign.
For more targeting capabilities and campaign optimization options please go to the Advanced and Custom Targeting Sections.