An Offer is the advertiser's product or service to which Publishers drive traffic via ad campaigns run on their placements or on their behalf. The details on the type of product (mobile/web), revenue and conversion type are set on the Offer settings page.
Tracking is also defined on Offer level to let Bucksense verify, measure and attribute traffic generated for each Publisher to the Advertiser's offer. Our tracking and attribution platform provides data of multiple traffic source dimensions and allows you to customize up to 6 tracking parameters.
Find here an overview on offer creation for external traffic sources. More technical details on tracking are covered by the specific articles linked.
Offer Details
1. Click Offers & Apps tab and select from the drop down menu Add Offer.
2. Add the Advertiser that the offer belongs to and select the offer type: web responsive, mobile, web or App.
3. Name your offer and add the Offer Landing URL where you want Publishers drive traffic to. This Url can include conversion tracking parameters and other additional parameters to pass data to 1st/3rd party systems. As explained below, in Additional URLS section you will be able to add more Offer Landing URLs.
4. Select the tracking method that the offer supports.
5. Add tags to help you to classify your offers on Category Management (optional).

*Offers details varies for Apps. Please read App Offer Setup article.
Additional URLS
In this section you can include all Offer URLs used as Landing pages for the campaigns served by the publishers. Once they been added, our system will assign them an ID to easily view their performance in Offer report.
1. Click Additional URLS and select status active.
2. Name the URL of your Tracking Link/ Landing Page. This name will help you to search and identify easily the URLs for campaign setup and report analysis.
3. Enter the URL and save. As in the case of the main offer URL, additional URLs can include conversion tracking parameters and other additional parameters to pass those values to 1st/3rd party systems.
4. Click on Add Row button for including more URLs.

Outbound Conversion Notification: Publisher Pixel
Here you can add Publisher's pixels specifically created for this offer or import an existing pixel from another offer. This second option makes much easier tracking implementation when the same pixel can be applied to multiple offers. When Publishers support a Global Pixel (for all offers), it can be directly added on Outbound Conversion Notification.

Offer URL A/B testing
URL A/B testing tool enable you to run multiple landing page tests to compare and analyze their perform for each publisher. With this tool you can create for your Publishers a URL that shows a number of landing pages in rotation. To learn more read Offer URL Rotator Article.
Events
Events allow you to track additional user's interactions within Advertiser's site. In this section you can create custom events associated to the offer and see the events that belong to the advertiser. To create events on Advertiser's level you need to go to Advertiser Management. For further details on Event Tracking, read How Tracking Works article.
Tracking URL
Tracking URL /Link is the mean that lets Bucksense attribute traffic from different Publishers and track clicks, conversions and other user's information (country, device, etc.).  In this section you can create tracking links to be used for the campaigns that each publisher serves. Learn more on How to create Tracking URLS article.

Conversion Tracking
In Conversion Tracking you can select the conversion event for the offer: default conversion event or any of the offer events set up in Events section. Once selected the conversion event, you can generate the Offer-based Pixel that you need to implement in Advertiser's system or site to track conversions when a Global Pixel is not supported. Our Guide for Conversion Tracking provides more information on Pixel implementation in Advertiser's system.
Advance Settings
In Advance offer settings advertisers and agencies will be able to enter information on Revenue and create Smartlinks, dynamic URLs that included advertiser's targeting criteria to redirect users to the appropriate offer.
Targeting for Smartlinks
On Advanced Settings you can set the targeting criteria to create Smartlinks that redirect users to the appropriate offer. Once defined the Offer Category, the user's Country, OS and Connection Type (WiFi and/or Carrier) the offer will be available in Smartlinks section to build the URL. For more details read How to create Smartlinks for your offers.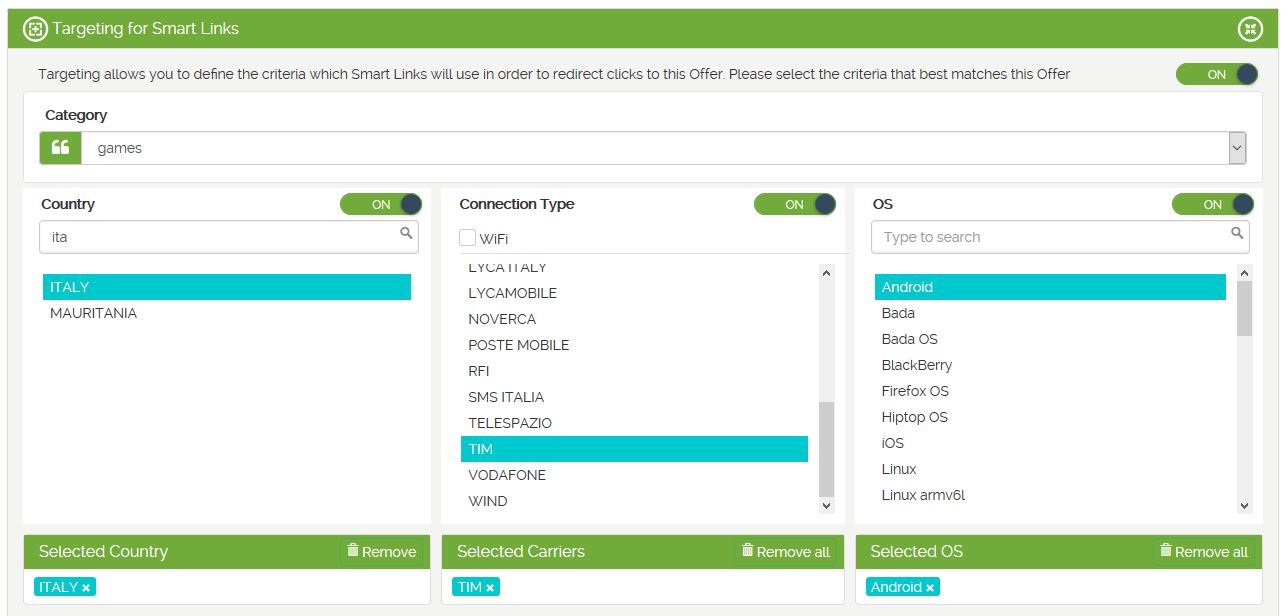 Revenue
Revenue section is specially aimed at agencies and media brokers that need to compare in real time campaign performance against offer revenue. Revenue for type of conversion and Advertiser's currency are defined here. Please remind that our system shows all amounts (including revenue) in US Dollars and Advertiser's Custom currency set in this section can be only taken as reference.