How to create SmartLinks for your Offers
SmartLinks work to drive users to the appropriate Offer for them while simplifying tracking setup for multiple Publishers/ traffic sources.
Bucksense SmartLinks work as tracking/measurement links and  are able to pass custom additional post click data to our system.
You only need to create one link which will auto-detect the Offer Category (the nature of the Offer i.e. Entertainment, Games, etc.),  the user's Country, OS and Connection Type (WiFi and/or Carrier) and redirect to the appropriate Offer.
SmartLinks helps marketers to access to uncategorized inventory and drive traffic to the appropriate Offer. This can increase advertiser reach for their Offers as it is not longer limited to categorized inventory.
Offer Advanced Targeting for SmartLinks
Targeting criteria for SmartLinks is set on Offer level. To be associated with SmartLinks Offers need to be categorized and defined the country, OS and connection type they target.
Go to Advanced Offer Settings and click Targeting for SmartLinks to define these parameters.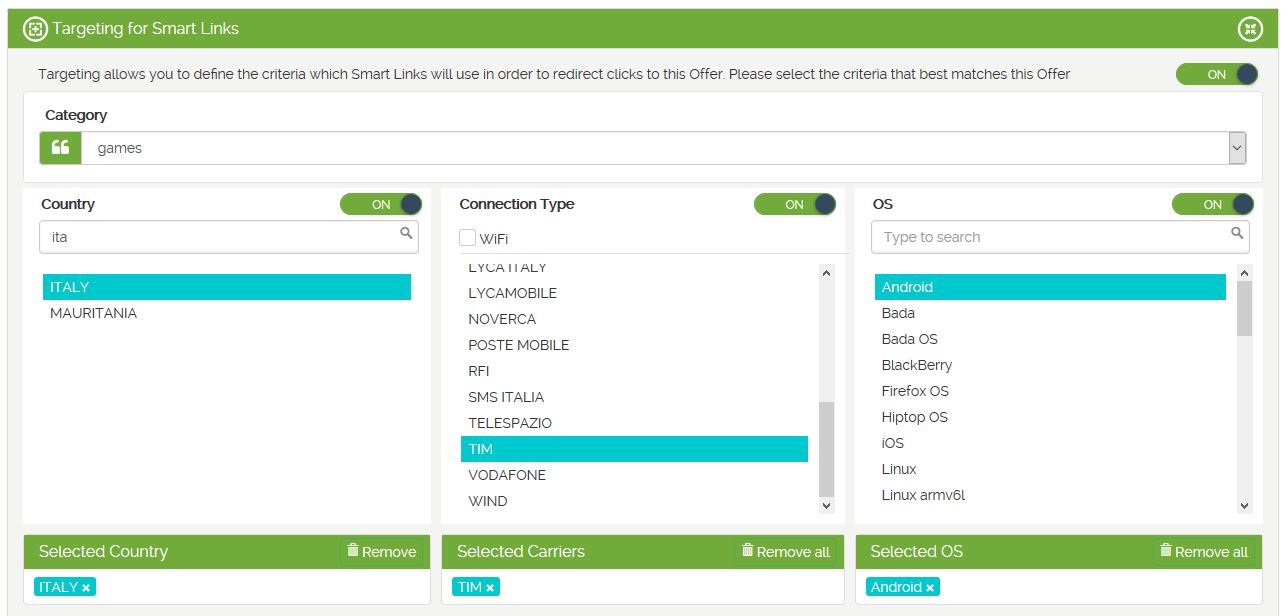 Set Up SmartLinks
Once Targeting Criteria for SmartLinks has been defined in Offer Settings, you can create SmartLinks to redirect clicks to the Offers that match those targeting parameters.
Follow these steps to create SmartLinks:
1. Click Offer & Apps Tab and from the dropdown list select SmartLinks.

2. Hit Add Smartlink Button  

 and enter a Name. Smartlink name as any other URL name will helps you to identify it easily in Report section.
3. Choose a Country and a Category to view all Offers that can be selected for this targeting criteria.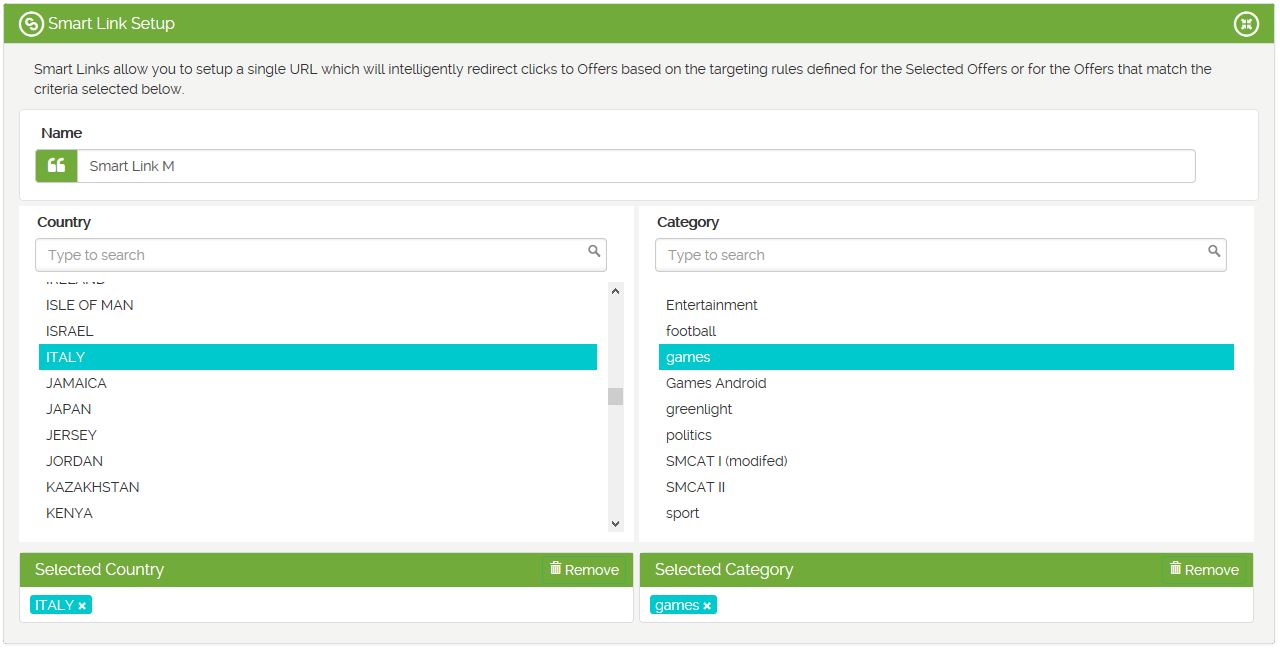 4. Select All Offer or Specific Offers to be associated with the SmartLink.

5. Generate the Tracking URL for this Smartlink. Select the Publisher that will use this SmartLinks to drive traffic to the Offers and click

6. Enter Publisher Click Macros if they need to be implemented in the Smartlink URL.

7. Add additional tracking parameters (optional). Bucksense allows you to track up to 6 Custom Publisher Dimensions.

8. Copy the URL generated and provide it to the Publisher selected. This Smartlink will work as THE unique tracking link to drive traffic to the appropriate Offers associated.