Offers refer in general to products, services or specific brands. For example, an offer could refer to Mobile App downloads (i.e., download GetTaxi on Google Play). App Offers contain the basic information that it is needed to set up the campaigns attached to them and track their performance.
Mobile App Offers
1. Click Offers&Campaigns tab and select from the dropdown menu Add Offer.


2. Choose the Advertiser and the Offer type: Mobile App.
3. Select the App you want to associate with this Offer. If the advertiser that you have chosen has not been associated to any App, you will need to add a new App. Details about how to Add a new App will be explained in Apps Section below.
4. Name your Offer and add a Destination URL. This URL will appear as Landing Page URL for the campaigns associated with this offer.
5. Add Categories that help you to group your offers on Category Management below Offers & Apps Tab (optional). For example, you can add "Gaming" tag for all offers related to gaming products or services.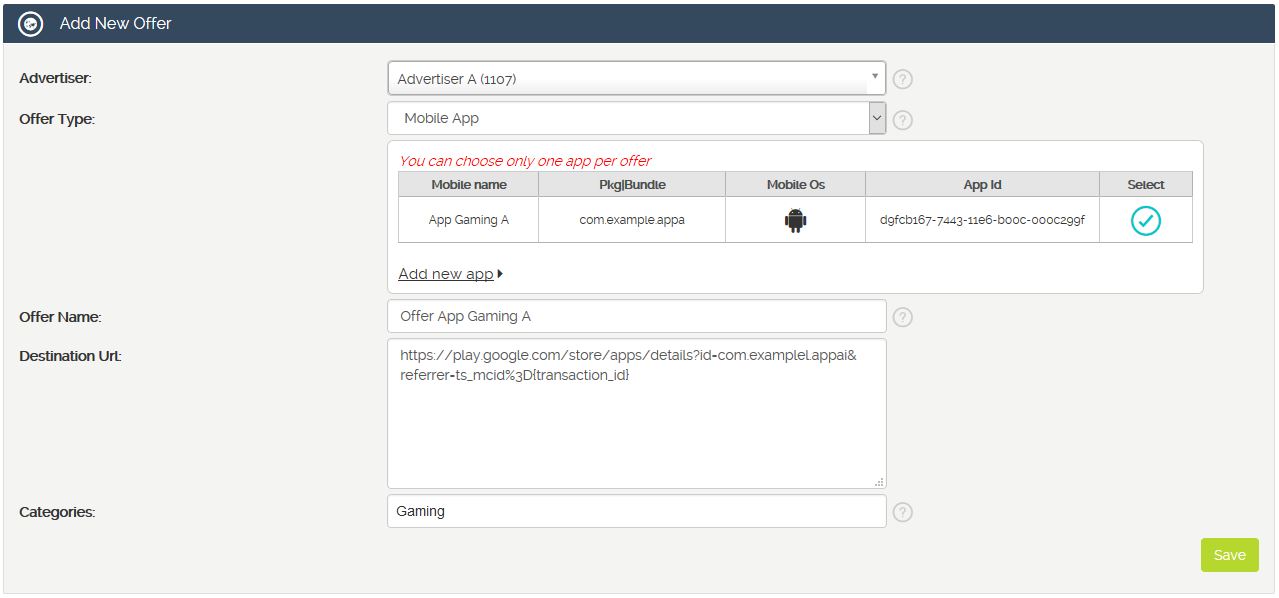 Once you have saved this information, new sections related to the type of offer and tracking will appear to be edited.
Apps
Each offer is associated uniquely to one App. This section allows you to add more than one App to easily edit your offer later on, though only one App can be selected at each time to set up and run your campaigns.
1. Click Apps and then hit Create New App button.
2. Name your App and select OS: Android, iOS or Windows Mobile.
3. Enter the Package Name or the Bundle ID (e.g., com.example.appb).
4. Enter a brief description of your App (optional) and save.

Events
Events allow you to track additional user's interactions within the Advertiser's App. In this section you can create custom events associated to the Offer and see the events that belong to the Advertiser, the App selected for this offer and Global App events. For details on Event Tracking, read How tracking works article.

To create events on App or Advertiser level you need to go to Advertiser Management or App Management below Offers & Apps tab.

1. Click Events and hit Create New button

2. Enter a name for this custom Offer Event and Save.


Campaigns
This section lists all campaigns tied to the offer that have been created. You can access them from here or on Campaign List below Campaigns Tab.

Conversion Tracking 
For custom events, in Conversion Tracking you can set them as main conversion event and select the tracking method:

1. Select the event you want to set as conversion event: default event, custom Offer or Advertiser event or any of the Global events.

2. Choose the method that your tracking tool supports to generate the tracking URL: Cookie or Cookie less tracking.