Reaching the right audience and improving the performance of digital advertising is crucial for advertisers.
Similarly, for agencies is increasingly critical steering clear of damaging brand safety mistakes and avoiding fake traffic or impression purchases
Contextual Targeting & Brand Safety audience features will help you to target toward or away from specific content pre-bid based on an analysis of the brand safety and attributes of the inventory.
This inventory analysis verifies if content is aligned with advertiser's ads and dismisses placements that do not match it or can contain potential negative messages.
For example, children's clothing companies can exclude Child Inappropriate and Sex&Erotic Content to prevent that their banners could appear next to these type of placements.
You can include/exclude categories to ensure the impressions that you buy meet your quality/safety requirements.
How to add Contextual Targeting & Brand Safety to your campaigns
Contextual Targeting & Brand Safety are included in the Advanced Targeting settings of each campaign (please note that for Double Click campaigns, only Contextual Targeting is allowed).
You first need to create a campaign or editing an existing one, and, select at least a Country in Basic Settings.
Then access the Advanced section and select Contextual Targeting & Brand Safety.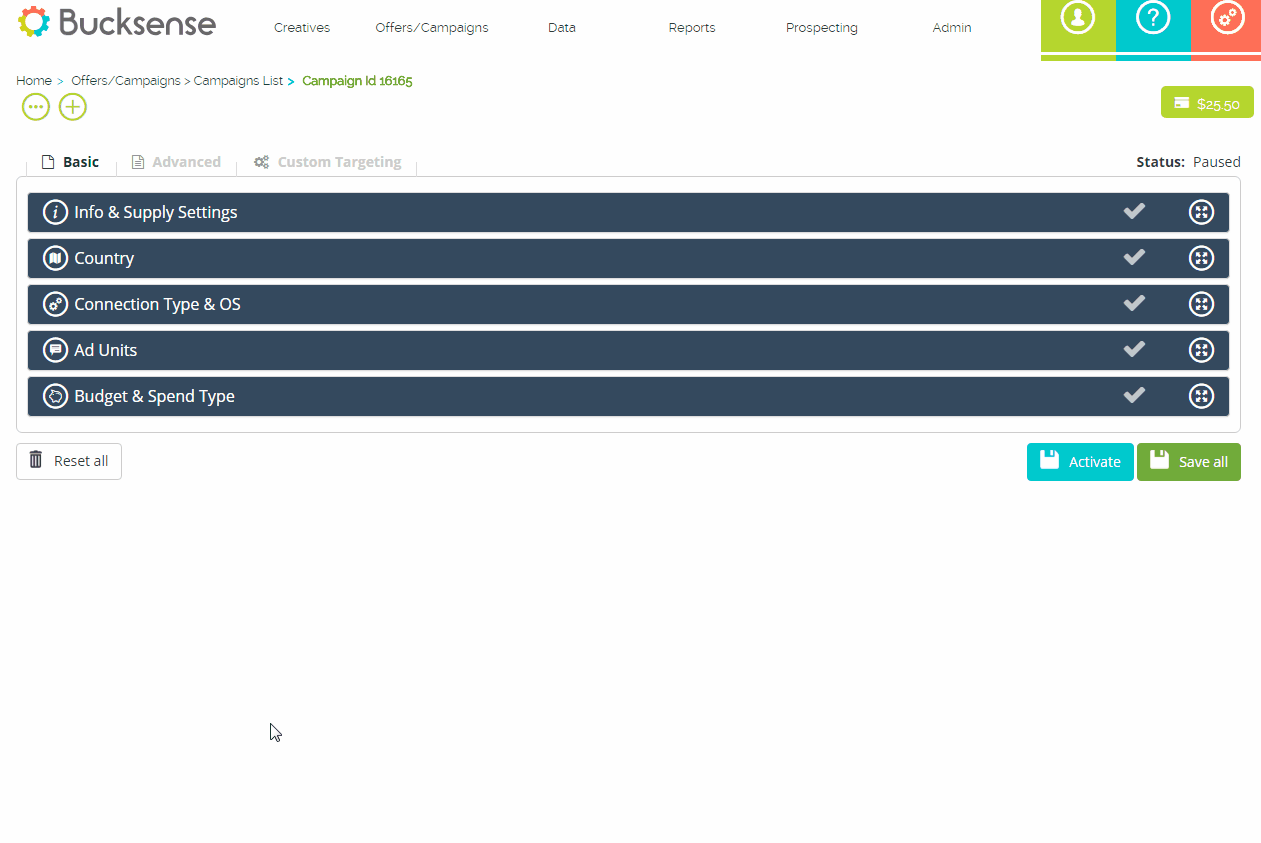 Based to the Incoming Traffic (App/Site) selected in Info & Supply Settings, you have the option to add Contextual Targeting and/or Brand Safety settings.
Contextual Targeting
Contextual Targeting is available for both: App and Site traffic, and, it allows you to pick which inventory's category the campaign will be bid on for the countries selected.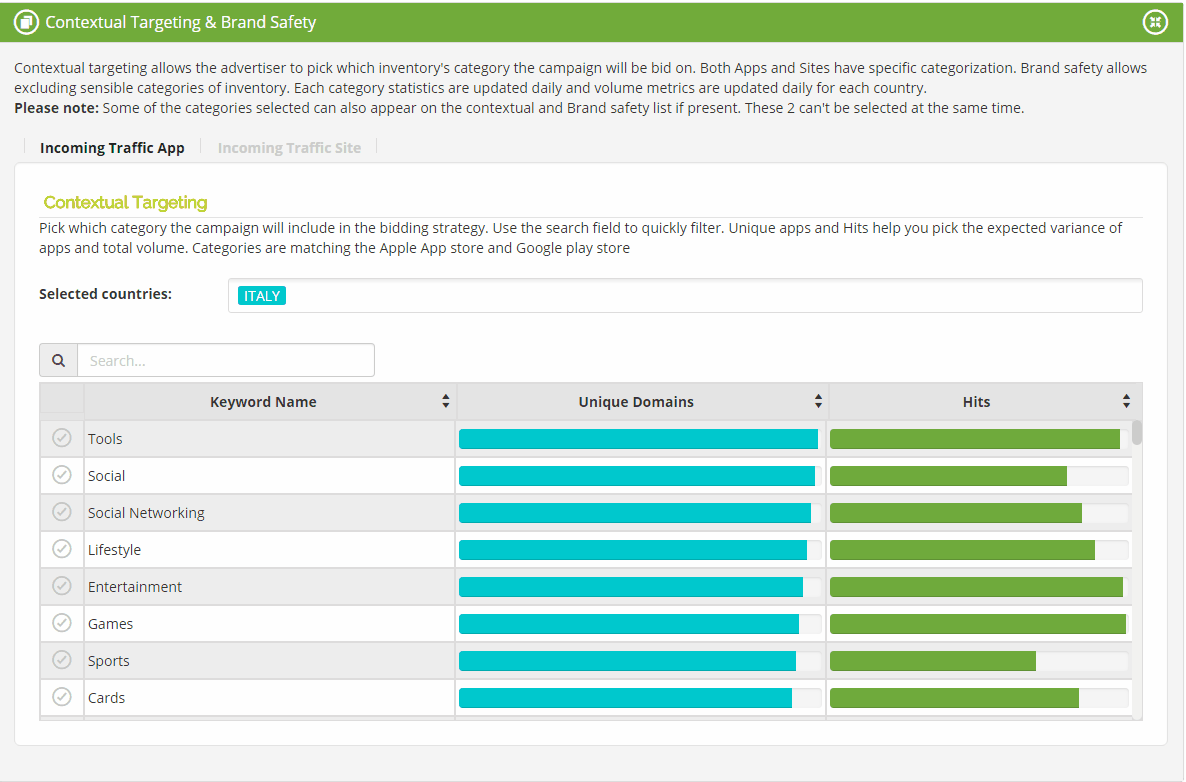 Keyword Name column shows you all the available categories, Unique Domains and Hits show you  the expected variance of apps/sites and total volume.
Select the Categories for which you want to target your campaign or use the search field to quickly look for a specific category.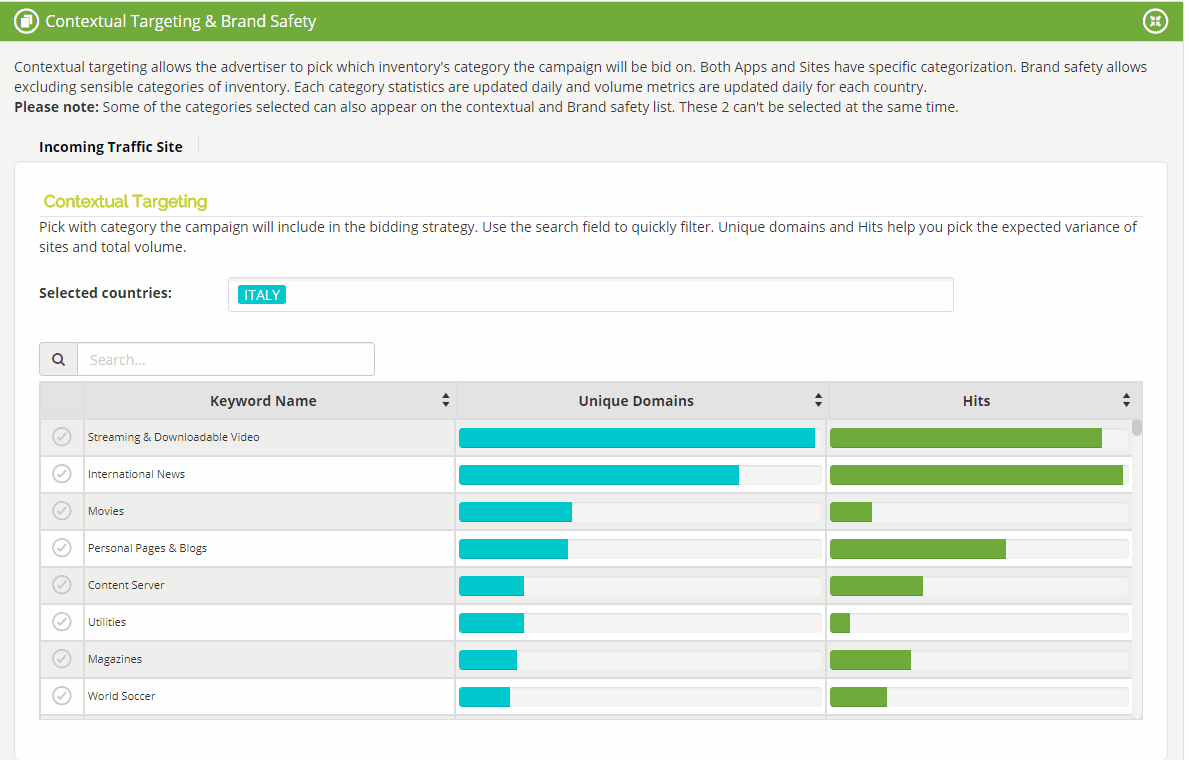 Brand Safety
Brand Safety (available for Site Traffic) allows you to exclude categories related to highly sensitive content such as: Criminal Skills, Nudity, Marijuana, etc from programmatic web inventory.

Simply select one or more Categories (Keyword Name) from the list and those will be excluded from your campaign inventory.
You can also put the check mark on Select All to exclude all the categories listed from your campaign.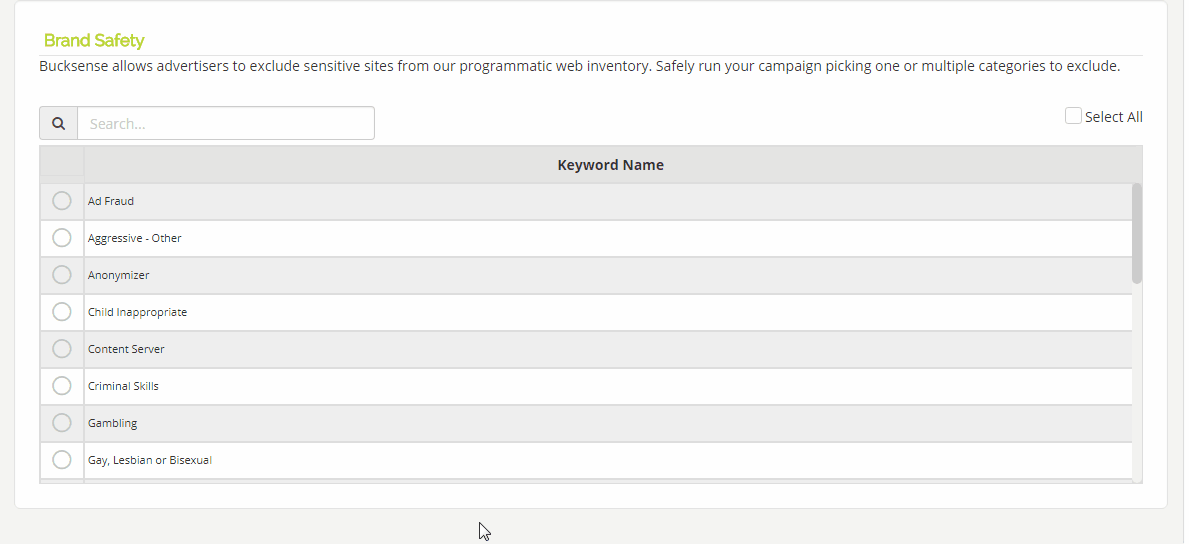 How to view Contextual Categories in the Reports
Once you have added the categories to include in your campaign targeting, you can access the Real Time Reports to give you meaningful insights into their performance, by following these steps:
The Report will show you in detail, all the informations about the performance of each category in your campaign